My Havaianas Story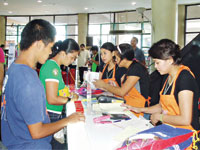 The Havaianas staff at Robinsons Place Bacolod.
Winner of the Make Your Own Havaianas
I'm John Aldric F. Lanciola, the lucky winner of the Make Your Own Havaianas event held at the Alumni Hall of the University of San Agustin recently. I really enjoyed customizing my own Havaianas and writing a story on a paper slipper.
After a few days, one of the staff of Havaianas texted me that I won two pins plus a trip to Bacolod. I was so so excited and very happy.
When I received the message, I thought of the Havaianas slipper. Even we have classes on that day of the trip, I decided I must go to Bacolod and customize my own Havaianas.
November 12, 2010. The day that I've been waiting for. I rode a taxi just to be in time for my trip. I told the driver to bring me to Fort San Pedro. When I arrived, I was surprised to see that there were no passengers waiting for a boat. I said to myself, "OMG! The boat has left me!"
I asked the person at the entrance, "Nong, is this where I should board my boat for Bacolod?" He smiled at me and said that I was at the wrong port and that I should be in Muelle Loney. "Take the CPU jeep and go down at Plaza Libertad."
So, I rushed to the port in Muelle Loney, while telling myself, "OMG, I'm so late!" I was filled with sweat. But I was lucky to have arrived on time.
The trip onboard Supercat took one hour and 30 minutes.
Upon arrival at the port of Bacolod, I was surprised to see that all winners in the MYOH that came from other schools and the TMX staff were there. So, we took the van together and went to Robinsons Place Bacolod where the event is taking place.
I was amazed to see Robinsons Place Bacolod. It's such a big mall. I was surprised to see many cameramen and staff waiting for us at the entrance as if we were VIPs. I really enjoyed it a lot hahaha.
I enjoyed watching the dance intermission and tribal song. After that, I walked around the fountain area. There were many people customizing their Havaianas. I enjoyed watching the expressions and smiles of the people while they choose the combinations for their Havaianas pair.
And here comes the funniest thing. I asked one of the staff if I can exchange my two pins for a pair of Havaianas and she answered me that the pins are just pins and are attached to the Havaianas slippers. I was surprised and disappointed. I thought that those pins where the ones I should exchange to get my Havaianas slippers. But thank God I have extra money. So, I purchased a pair of Havaianas and customized them myself, with all my heart, mind and soul. It cost me P895 and it was money spent well.
I went back home to Iloilo with a smile on my face, having no regrets for what I spent. It was one of my unforgettable moments in life.
In every step you make, you change your life.
I love Havaianas!