PURR
An Intimate Gathering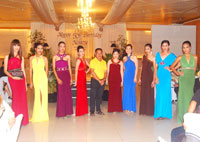 The celebrator and the models wearing Mel Varca's gowns.
"I am so grateful for the 50 fruitful years," said Nonoy Mosquera to those he invited for his birthday celebration held at the Iloilo Grand Hotel last month.
Nonoy is a famous personality because he is responsible for the fabulous make-up of models during fashion shows as well as famous social figures when they attend special occasions. As they often say, if you want to look your best, always complete your look with a make-up done by Nonoy Mosquera.
However, Nonoy is not only famous for his knack in making you look beautiful and fabulous. His simplicity is a breath of fresh air in an industry that focuses so much on superficiality.
Nonoy is so well-loved that his family and friends volunteered to create a lively program for the celebrator. A long-time friend and fashion designer Mel Varca, staged a fashion show to honor Nonoy. She also made a speech prior to that."Gold is life's best gift to us and so is friendship. Nonoy is celebrating his golden or 50th birthday. We are blessed to be selected by Nonoy this evening. He has been a make-up artist for 23 years. He is prompt and does not overcharge his clients. Nonoy is a good person. He is one lucky artist," Mel Varca said.
Indeed, Nonoy's birthday is a celebration of friendship, happy memories and beautiful experiences.