Senior Supt. Dennis Basngi, who will soon be replaced as director of the Iloilo City Police Director, said yesterday he harbors no ill feelings over his looming relief.
Iloilo Gov. Arthur Defensor Sr. has called former Provincial Administrator Manuel Mejorada irresponsible for linking him to the investigation being conducted by the Truth Commission on his predecessor, Niel Tupas Sr.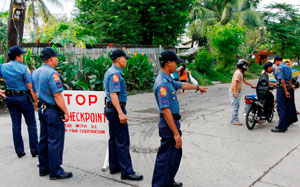 Leo Solinap
The entire force of the Bureau of Fire Protection (BFP) in Oton, Iloilo has been dismissed for alleged abuse of authority.
BFP 6 regional director, Senior Supt. Eleuterio Iturriaga, ordered the relief of Oton fire marshall Insp. Arnold Pulido,