Amid the enforcement of the Commission on Elections gun ban, Chief Supt. Samuel Pagdilao Jr., police regional director, has reminded the public against buying toy guns or gun replicas as possession of such items could constitute violation of the gun ban.
The re-testing of the 164-megawatt coal-fired power plant of the Panay Energy Development Corp. in Brgy. Ingore, La Paz, Iloilo City set yesterday has been moved to October 14 and 15.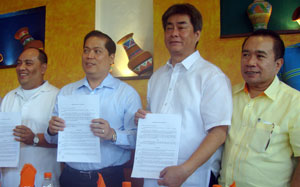 MONTESA GRIÑO-CAOYONAN

The organizer of the 2011 Dinagyang Festival is looking forward to raise some P14 million to finance the staging of Iloilo's world-class festival slated on January 21 to 23.
The Iloilo City government yesterday started its inventory of the assets of the P130-million abandoned housing project in Brgy. Ungka, Pavia town.