I-TRAVEL
Crossing Bridges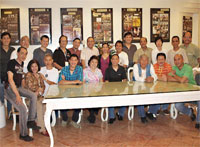 The FPPF and PSI.
It is done!
The Crossing Bridges Program for the Philippines is a go!
This program is about photography that "crosses bridges" wherein 80 photographers from Southeast Asian nations, will go to the Philippines.
The program will start in Cebu, then Bacolod and will end in Iloilo. The host for the Iloilo leg is the Photographic Society of Iloilo (PSI). This is a big job for the group, which follows immediately after PSI's celebration of its 30th anniversary. The PSI is a member of the Federation of Philippine Photographers (FPPF), which will also join the program.
The Iloilo leg consists of two days of photography in Iloilo City and the municipalities of Miag-ao and San Joaquin. They are eyeing the two old Augustinian churches, as well as some ethnic and unique places in our province.