Korean Docs Serve Ilonggos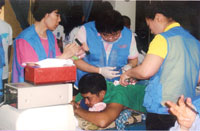 The medical team at work.
SOME 34 medical and dental doctors from Seoul, South Korea came to Iloilo City last September 19 and held an outreach activity at the Dep-Ed Social Hall last September 20. They were equipped with an X-ray machine, ultrasound machine, some dental equipment, medicines and other accessories they needed to facilitate check-up and treatment of persons with disabilities (PWDs). There were also doctors who handled rehabilitation and acupressure services.
On September 21, the teams divided themselves and ventured to varied areas. Team A served Balasan and its nearby municipalities; Team B served San Jose and Patnongon, both in Antique and; Team C served Iloilo City at the Caram's Residence and the Cadelva Church of Dungon C Jaro.
The delegates also turned over 10 wheelchairs to the Office of Persons with Disability Affairs (OPDA) for fast and easy mobility to deserving and qualified persons with disabilities (PWDs) who need assistive devices.
The Koreans also extended some financial help to PWDs and some indigent families.
Hospitality, security and Ilonggo native delicacies were well-provided for by OPDA and the head and staff of local government offices.
They left Iloilo City last September 24 with a warm feeling of gratitude from the Ilonggos for their warm hospitality and belief that Iloilo City is a safe place for foreign nationals.
The organizer, OPDA headed by Dolores Mendoza Laudenorio sends thanks to the sponsors and facilitators of the successful event. The project was also in coordination with city government officials, regional and city police offices and Full Gospel NOWON Church in Iloilo City.