The Iloilo City Police Office is verifying the identities of the other members of the True Brown Style, a youth gang whose members have been identified as the suspects in the series of robbery hold-up incidents in Iloilo City, victimizing taxi drivers.
The Philippine Drug Enforcement Agency 6 is monitoring ports in Western Visayas for possible smuggling of illegal drugs through "transient carriers" or persons who swallow the drugs to conceal these and pass through laser inspection.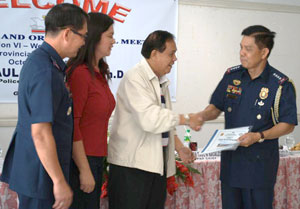 JOSELITO VILLASIS/IFFB

Iloilo City Mayor Jed Patrick Mabilog said over the weekend the long-overdue restoration of the city traffic lights is his government's priority concern.
A couple was instantly killed after their car rammed into a tree Friday afternoon in Barotac Nuevo town, Iloilo.