The Woman of Today
Showcase of Ram Silva's hablon collection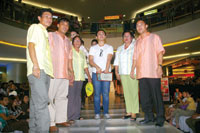 Ram Silva is flanked by the models.
"Ram Silva is a really good designer," a friend told me once. That feedback led me to a seat at the 3rd Indigenous Fiber Fashion Week at SM City Iloilo where Ram Silva is holding a fashion show.
Silva limited his colors to black which came in either matte or shiny and pearl. "My collection was for the woman of today. She is courageous, that is why I used black. She has maintained the femininity of the Filipina, which explains my use of the color pearl.
Silva made use of the materials hablon and abaca, which were made by the weavers of Duenas.
Silva was the second designer to present his collection for the 3rd Indigenous Fiber Fashion Week, a celebration of Visayan indigenous crafts and hand-loomed textiles.
The models were led by Ria Bolivar, an Ilongga who is now an international model.
The show was directed by Bombette Marin.