Arangkada
A perfect match for your morning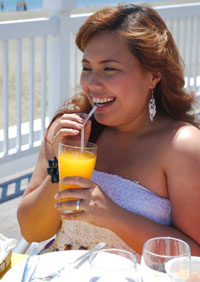 Arangkada's bubbly host, Kate Chavez.
The Ilonggo's morning TV ritual will never be complete without a dose of Arangkada, GMA-TV 6's top-rating and most-watched morning show from Monday to Friday, 7am to 8am. It seems that this popular TV program is a perfect match for a cup of coffee and pandesal when you decide to catch the latest news bits in Iloilo and what "in" or "hip" in the city. Though it is close to the heart of the Ilonggo televiewers, Arangkada is actually a fruit of hardship, camaraderie and creativity of people working behind it. For four years, it already made a statement and a legacy in the local television.
"We wanted to capture the concept that when people wake up in the morning and before they proceed to their respective jobs or destinations, we are here to provide them with the freshest news and information they need for the day," said Rexcel John Sorza, Executive Producer of the show. Aside from the fact that Arangkada is broadcast live every morning, the staff always maintain an innovative approach to the topics and concepts every now and then. This way, their televiewers will be able to see a variety of significant stories and features that have important connection to the Ilonggo culture. Arangkada combines live news and events with light topics to come up with a balanced programming. When it comes to the ratings game, Arangkada remains ahead and maintains a loyal following among the Ilonggos every morning.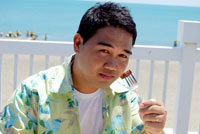 Arangkada's news man, Mark Nunieza.
When it comes to the hosts of Arangkada, Sorza has these insightful words to say: "The hosts represent the cross-section of the Ilonggo society. We have Mark Nunieza and Charlene Belvis who cover the hard news and more serious stuff to the delight of the professionals and the working class. Kate Chaves simply fits the criterion being looked after by women. And of course, Macoy Abapo caters to the younger viewers like students and teens." He is also proud of the efforts of Arangkada in promoting the booming tourism industry of Iloilo and the whole region. With the increasing number of festivals and cultural celebrations, as well as rediscovering tourism spots and interesting places, Arangkada is always ahead to pursue its vision to become a tourism-oriented program.
"What I enjoyed most as part of Arangkada for almost 9 months now are some of our out-of-town trips and meeting people of all walks of life who inspire us to stay dedicated to our work, " says Macoy Abapo, one of the hosts of the show. Through he's trying to balance his time between hosting and university life as a BS Marketing student of Central Philippine University, Macoy considers everything as a newfound passion with social relevance.
Arangkada continues to capture the affinity of Ilonggos for quality morning show program with sincerity, passion and credibility. Catch them every weekday, 7am at your favourite Ilonggo Kapuso station, GMA TV 6./PR