Consumers of Iloilo Electric Cooperative (ILECO) 1, 2, and 3 have yet to experience relief from the almost daily power interruptions.
A leader of a militant youth organization was arrested after shouting at the session of the Iloilo City Council Wednesday afternoon.
James Saguino, Anakbayan regional chairperson for Panay, is facing charges for disturbance of proceedings which has a penalty of arrest and fine from P200 to P1,000.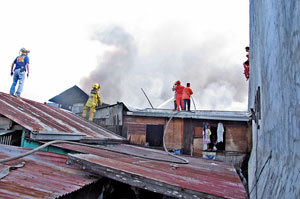 JOSELITO VILLASIS/IFFB

The 81 families in Brgy. Rizal Ibarra, City Proper whose houses were razed Tuesday afternoon will receive cash assistance from the Iloilo City Government.
Mayor Jed Patrick Mabilog said the financial assistance may range from P3,000 to P 5,000 per family depending upon the availability of the fund.