Green Week 2010 Festivities at WVSU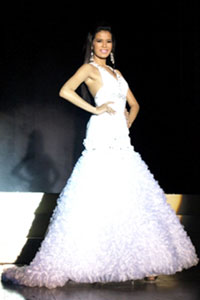 Angelie Golingay, Ms. Dinagyang 2010 and Reyna ng Aliwan 1st runner up.
THE WVSU University Student Council in cooperation with Link.exe and GMA TV-6 Iloilo spearheaded the first ever project for mother earth entitled Green Week 2010 themed as "Environmental Heroism".
This was organized by Gabriel Felix Umadhay, WVSU-USC Councilor. Its goal is to educate students on responsible stewardship and urge them to show appreciation for the planet.
The week-long celebration included a fun fun, forums for global awareness on climate change, waste management, and technology that saves the Earth, a Green Lens photo contest, art in trash workshop, and Nature Flicks video advocacy contest.
The most awaited part of the event "Fashion goes Wild" the model and designer search, 12 models, 6 designers, 1 fierce competition amazed the crowd. The runway contest this time had a little twist aside from the indigenous and/or recyclable materials they will collaborate; they must get their sketches, patterns, and designs from wild animals as an inspiration.
Also at the WVSU Cultural Center, a vast multitude witnessed the grand launching of the "My tumbler" project. It's a musical variety show that was supported by the special performances of WVSU home-grown talents like Irong-irong Dance Company and Panayana Chorale, R U Dancers?, All star Jr., plus the special segment of the night the Fun Ramp segment with perfect 10 beautiful ladies donning their cocktail dresses and long gowns. The personalized tumbler cost P150 each and this project means a lot in minimizing garbage in the campus specifically the plastic cups that we use to drink our soda from. There are six chic designs to choose from.
We always ask why we are suffering from floods, earthquakes, and typhoons. Thus, let us implement measures to prevent these effects of climate change. Let's remember that we have one earth, our home.