TWILIGHT
The Imperial Palace Visit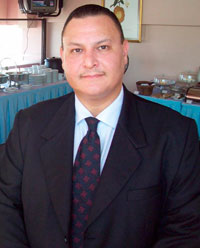 Imperial Palace Suite GM Jalal Qneibi.
Taking the Airbus A-319 of Cebu Pacific, we arrived at the NAIA 3 and took a yellow cab, the safest taxi ride from the airport, and onward to Quezon City. Nightlife and the restaurant and bar row is definitely within the areas of Timog Avenue and Tomas Morato Avenue where a pleasant hotel in the corner is located.
The best hotel to catch all those bar destinations and the sumptuous dining is the Imperial Palace Suites since it's located right at the very corner of the exciting night avenues in Quezon, the central location amidst the business, restaurant, medical and wellness hub of that city.
Imperial Palace Suites is the hotel in that city that is affiliated with an international hotel chain, Mercure Hotels under Accor.
In our stay we got the comfort in one of the 207 well-appointed guestrooms with living, dining and kitchen facilities. We had buffet breakfast at the top floor of the hotel overlooking the city's skylines and business district with the pool beside as we enjoyed their breakfast treats.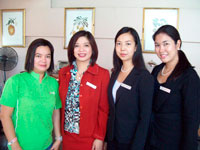 Your Twilighter Mini beside Hotel PR and Sales charmer Yvonne VIllacorte and her energetic sales staff.
Just a wall away is Starbucks and we enjoyed our after-midnight coffee with cookies. In your next stay in Quezon City, the destination is Imperial Palace Suites where PR charmer Yvonne Villacorte and her staff await you and a warm greeting from hotel GM Jalal Qneibi who greets his hotel guests.
More than being a recreation and entertainment district, the Imperial Palace Suite's location is also strategic for those seeking access to premium medical care. The hotel is in the same locality as highly respected medical institutions like the Philippine Heart Center, the National Kidney and Transplant Institute, the Philippine Lung Center, St. Luke's Medical Center, and Capitol Medical Center.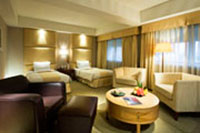 The elegant room of Imperial Palace Suites.
For those looking forward to having a rejuvenated well-being, the Imperial Palace Suites also offers convenient reach to highly professional Wellness clusters handling Physical Fitness, Health Clinics, Alternative Healing Centers, Spas, Beauty and Cosmetology Centers.
Imperial Palace Suites has become a popular venue for movie press conferences being a stone's throw away from the headquarters of the two biggest television network conglomerates in the country — ABS-CBN and GMA Network, as well as the central offices of thirteen Radio stations and four Print Media offices. You could have a pleasant travel to Manila via Cebu Pacific's daily flights from Bacolod, Iloilo, Cebu, Davao, Roxas, Caticlan.