Rotary Brings Smiles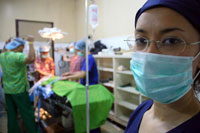 President Cha Plamengco helps at the O.R.
ABOUT 70 cleft lip/palate and burn contracture patients mainly from the Province of Iloilo assembled at the out-patient department of the Western Visayas Medical Center for their final laboratory work up in preparation for their much-awaited repair surgeries. This is the first stage of "Smiles Beyond Borders: A Surgical Mission for Children and Adults with Deformities."
On top of the free laboratory tests, the patients were also provided with food and transportation allowance and a training program on basic hygiene, feeding techniques and medicine administration was also organized in cooperation with Iloilo Doctor's Hospital resident physicians to educate the patients' relatives and enhance their supportive and therapeutic roles.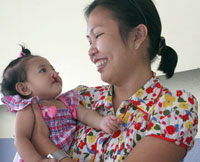 "Smiles Beyond Borders' was conceived by President Chacha Magbanua of the Rotary Club of Iloilo City together with Immediate Past President (IPP) Dr. Angamuthu Rajoo of the Rotary Club of Johor Bahru, Malaysia during one of the Rotary Assemblies abroad. With the inspiration of the prime movers of RC Iloilo City's "Smile" projects–IPP Markus Duenneisen and Director Larry Mally – and the persevering spirit of its members, "Smiles Beyond Borders" came to be.
It was a happy coincidence that in the last ten years Pres. Dr. Anga had conducted 11 plastic surgery missions for cleft lip/palate and other deformities in various parts of the Philippines and that the Rotary Club of Iloilo City is presently engaged in "Operation Yuhum," which is the clinical preparation of patients to qualify them to participate in surgical missions sponsored by other organizations. "Operation Yuhum" was the brainchild of IPP Markus Duenneisen in 2005. Four years later, Director Larry Mally took charge of Operation Yuhum. To date, RC Iloilo City has helped more than 200 children go through their lip/palate repair surgeries and maintains a database of over 200 indigent patients with various deformities who would be needing surgery.
The Rotary Club of Kinta, Ipoh sent five doctors to Iloilo City on August 26-30, 2010 to perform life-changing operations for free at the Western Visayas Medical Center, Mandurriao, Iloilo City. The other plastic surgeons joining this mission are Drs. Margaret Leow, Regunathan Villanayer and Yap Yan Lin.
Recognizing the significance of this humanitarian endeavor, the Rotary Club of Sae Goyang, South Korea (RI District 3690), Past President Dr. Oliver Hennedige and the Rotary Club of Singapore also sent their financial contributions. Dr. Anga was mainly responsible for raising funds from their District. District Governor Kochitty Abraham of District 3310 also pledged additional financial support.
"Smiles Beyond Borders" performed free surgical procedures for cleft palate patients, burn contracture patients, patients with other deformities and cleft lip repairs/revisions.