I-TRAVEL
73rd Iloilo Charter Day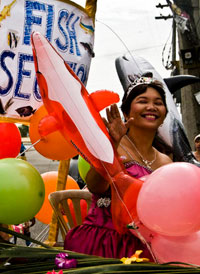 August 25, 2010 was the 73rd Charter Day of Iloilo City.
During the charter day celebration, we had a parade to commemorate the Ilonggos' ability to survive amid the colonization of the Spaniards, Japanese and Americans.
Iloilo City is an old city. If one pays attention to its past, there is so much to learn about Iloilo City.
Iloilo is something to be reckoned with. Proofs are the Augistinian Churches as well as the other churches in the city and province of Iloilo.
Iloilo City and the Island of Panay are historic places. We Ilonggos must cherish and celebrate these.