Biggest Loser holds auditions in Iloilo City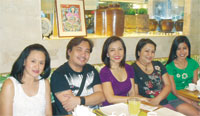 ABS-CBN's Desiree Bretana, Ronald Padriga and Charie Ginete-Ilon with the writer and Darlene Delgado.
THE search for contenders in ABS-CBN's 'Biggest Loser Pinoy Edition' has reached Iloilo City, with the directors themselves coming over to search for the city's heaviest men and women.
Directors Laurenti Dyogi and Reilly Santiago met the Iloilo press over lunch at Cafe Laguna and shared some insights about ABS-CBN's newest franchise.
Dyogi said that while Pinoy Big Brother and Philippine Dream Academy sought to build stars, Biggest Loser Pinoy Edition wishes to make improvements in the lives of obese people starting with their weight and on to their attitude in life, and eventually help them achieve their dreams.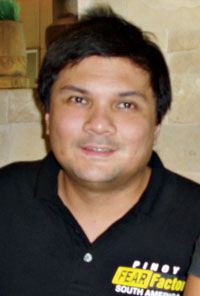 Director Reilly Santiago.
The audition, which was held at SM City Iloilo, was a whole day affair. Dyogi said that earlier in the morning, there were a few who came. "We thought that Iloilo City is full of sexy people. Anyway, more came at the later part of the day. Because they will appear in television, we chose our contestants based on their interesting personalities, which is a standard requirement for a reality program. We also tried to see if they have the determination as well as they are entertaining," Dyogi said.
Apart from Iloilo, auditions were held in Cagayan de Oro, Legaspi, Cebu, Tarlac and Manila.
They are looking for 14 individuals. The males should weight at least 250 pounds and the females, 200.
The 14 contenders will be housed in one area. A trainer will guide them in their exercises as well as food intake.
Ronald Padriga of ABS-CBN Manila who was also present at the presscon said that during the auditions, he has learned from the varied stories that obese individuals shared. "They are like us who have dreams. From their stories, I've realized how discriminatory we have become of them and how we have hurt them. These people also want to lose weight and change. Biggest Loser Pinoy Edition will give them hope and the chance to fulfill their dreams."
Biggest Loser Pinoy Edition will be aired over ABS-CBN starting at the first quarter of 2011.