Assumption Memories on Exhibit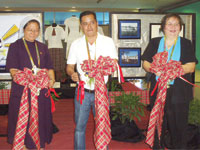 Sr. Claire Cecilia, Jose Louise Mabilog and Marissa Segovia.
ASSUMPTION Iloilo celebrated its centenary last August and one of the events organized by its alumni was an exhibit of memorabilias at SM City Iloilo.
The Photo and Memorabilia exhibit was a labor of love by Grade School batch '87 and High School Batch '91 of Assumption, led by the hardworking team composed of Feliza Espinosa Uy, Trisha White Yanoc, Pauline Gorriceta Banusing, Claire Jarantilla Gabayeron, Peachy Garrido, Stella Divinagracia-Gonzales, Architect Goodie Arancillo and Eric Divinagracia. The exhibit was also made possible by their batchmate Dr. Marisol Timtiman Obnial who is presently a psychiatrist in California.
The exhibit reflected the simplicity of the Assumption and focused on its real core–love, peace, truth, justice and peace.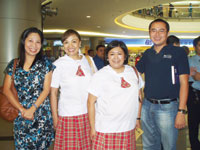 Joy Cañon, Pauline Banusing, Claire Gabayeron and Councilor Jason Gonzales.
The group shared to the Ilonggos the history of Assumption Iloilo and also enumerated the life of its foundress, Saint Marie Eugenie. It also showed the different outreach programs of the school.
The ribbon cutting that signaled the exhibit's opening was led by Sr. Clare Cecilia, Jose Luis Mabilog who represented Mayor Jed Mabilog and Marissa Segovia, president of the Assumption Alumni Association (AAA).
Also present were Vice Mayor Joe III Espinosa who is the President of the Assumption PTA and Junji Hortillas, chairman of the Centennial Committee.
Sharing laughter and fond memories of the Assumption were former students Chona Layson- Bondoc, Nening French, Marilen Rivera and Sandra Gomez.
All generations of the Assumption were present. Regina Gorriceta-Shabestari came with her daughter Homa Shabestari. Lee Altavas came with her mom. Susan Florete came with her daughter Marjorie Florete. Beth Jarantilla came with son Augie Jarantilla.
The former teachers of Grade School Batch '87 and High School Batch '91 were present–Ms. Patingo, Grade I Class Adviser; Sr. Mary Joseph, Second Year Class Adviser; and Sr. Nilda Hechanova, high school principal.
It was an afternoon of nostalgia as it reminded everyone that Assumption will forever be in their hearts.