PURR
Tadtad 2010: A Tattoo Showcase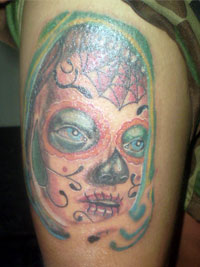 Open Category. The entry that won first place.
Tattoos have varied purposes. One, is its decorative and spiritual use. They were symbols of status, religious and spiritual devotion, pledges of love (like writing your lover's name on your skin), and more. Second, it is used for identification purposes like the prisoners in Nazi concentration camps as well as marks for slaves. Serial numbers are tattooed on animals as well. Third, it is used for cosmetics, like putting permanent eyebrows or lips, moles or hide skin discolorations. Fourth, there are medical tattoos, those that are used to mark a spot where a certain instrument is often inserted.
Tattooing has been existing for centuries despite some taboos surrounding it. Some groups that practice tattooing are the indigenous people of Japan (the Ainu), New Zealand (the Maori), Taiwan (the Ayatal), and even in the Philippines.
Even some Ilonggos love to have their tattoos. Some are hidden and some are seen. And there are artists who would just love to express their creativity on the human canvass, our skin.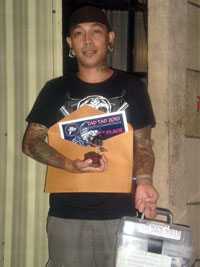 Open Category first placer Michael Molinos from La Carlota City.
Recently, tattoo artists from different parts of Western Visayas, participated in Tadtad 2010, a tattoo competition spearheaded by Stained Skin Tattooz, a tattoo and piercing shop located at Robinsons Place Iloilo. Tata Coscolluela, owner and tattoo artist of Stained Skin Tattooz personally oversaw the competition.
Michael Molinos of La Carlota City won in the Open Category while Jacob Franco of Iloilo City led in the Beginner's Category.
The competition was supported by Robinsons Malls, Alobijod Cove, Pirates Bar and Resto, DYSI Super Radyo, Campus 93.5 Ayos, GMA 6, San Miguel Corporation, Triskelion Alumni Organization and The News Today.