Iloilo Gov. Arthur Defensor Sr. has lauded Supreme Court Chief Justice Renato Corona for continuing the "Justice on Wheels" project.
Defensor welcomed Corona and his party who graced the inauguration of the "Justice on Wheels" project in Western Visayas at the Chief Justice Ramon Avanceña Hall of Justice yesterday.
The Department of Public Works and Highways 6 has set up a complaints desk and opened a hotline service to entertain complaints as part of the agency's transformation program.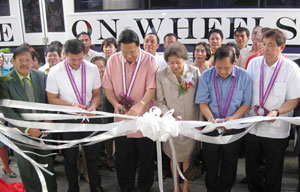 T. VILLAVERT PIA
The Panay Energy Development Corp. will supply 65 megawatts of power to Panay Electric Company in the next 25 years starting the first quarter of 2011, based on the electric power purchase agreement signed by the two entities Tuesday in Iloilo City.