Filipina Spa Europa Salon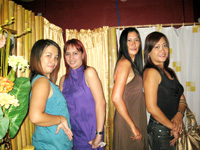 Anamavie Sacares, Catherine Cabuga, Melanie Sulayao and Helen Stummer pose during Filipina Spa Europa Salon blessing and opening.
A place of beauty, pampering & bliss
IT feels good to be pampered. True, it's good that you know how to cut your hair, put on your makeup, give yourself a manicure and pedicure or a massage on parts that your flexible hands can reach.
But, there are experts who could make you look better than your regular self, those who can give you the right haircut for your face shape, and the massage that triggers the important points in your body, leading to relaxed muscles and joints. These experts are found in Filipina Spa Europa Salon.
Filipina Spa Europa Salon is sensitive to one's needs to beautify and relax. Its owners, Melanie Sulayao, Anamavie Sacares and Catherine Cabunag are friends who love to visit parlors and spas wherever they go. This passion made the three friends decide to venture to a business they are familiar with. Thus, they acquired an existing spa and turned into a salon and spa that offers more services and better, too.
According to the trio, they wanted to share their vision of providing excellent service at a reasonable cost.
The business was named as Filipina Spa Europa Salon because Filipinas are known for their exquisite beauty, especially their skin that doesn't seem to age fast, skin that is smooth, soft and healthy. For Filipinas, beauty seem to just come naturally.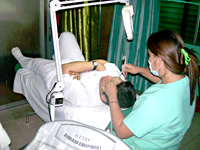 Facial care at its best.
Filipina Spa Europa Salon is very accessible. It is located at the corner of Vicente and E. Lopez Streets, at the heart of the academic and business hub of Jaro district. Students, teachers, professionals and local and foreign tourists will find no difficulty in locating the place.
Another convenience that Filipina Salon and Spa can offer is the ample parking space for clients.
Also, its ambiance and the polite staff will make the client feel more comfortable. Their personnel are well-trained by renowned training institutions accredited by TESDA.
SPECIALIZATIONS
Filipina Spa Europa Salon specializes in facial treatment, warts removal and diamond peel. They also provide hair care like hair rebonding with cellophane, hair cellophane, hair spa, hot oil, hair color, hair relax with hot oil, hair relax with shinemoist, cold wave and haircut. They also engage in hair removal from underarms, back and legs, provide manicure, pedicure and makeup. The spa's services are foot spa, body massage, Brazilian and white body wax.
The skill, the caring touch, the ambiance, and the professional dealings will help you achieve a higher level of relaxation and wellness at Filipina Salon and Spa.
Filipina Salon and Spa will always bring out the best in you.