SM City Iloilo celebrates National Children's Book Day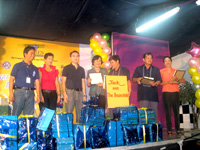 Since 1967, International Children's Book Day (ICBD) is celebrated every April 2nd in time for the birthday of the world-famous Danish author of well-loved fairy tales and poems, Hans Christian Andersen. Said festivity is held yearly to inspire love of reading and to call attention to children's books.
Locally, we celebrate National Children's Book Day (NCBD) on the 3rd Tuesday of July, in commemoration of the publication of Dr. Jose Rizal's "Ang Pagong at ang Matsing" (The Turtle and the Monkey) at the Trubner's Oriental Record in London.
The SM Supermalls' Corporate Social Responsibility program, SM Cares, through the SM Committee on Youth and Children's Welfare, shall be celebrating Children's Book Day on July 20, with a number of "activity-campaigns" simultaneously, across 38 SM malls nationwide.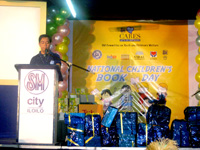 "With more than 2.8 million customers going to our malls daily, and approximately 1.2 million being children, we have put it upon ourselves to make our malls not just child-friendly, but more importantly, an avenue for a kid's growth and learning." said SM City Iloilo Asst.Mall Manager Girlbert Domingo "SM is now beyond shopping, entertainment, and leisure. It is now about taking affirmative action in our social responsibilities. It is about taking initiatives, to be instrumental in caring for children, the best way we can." he added.
Together with partners from the Department of Education (DepEd), the National Book Development Board (NBDB), the Department of Social Welfare and Development (DSWD), Vibal Publishing and SM Foundation, the NCBD hopes to cultivate a love for reading and inspire kids into reading early to further boost a child's development. This shall be highlighted by a turnover of more than 35,000 brand new books to different public schools nationwide.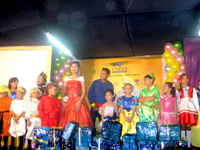 Primary objective of this SM Cares campaign, is for kids to have fun in learning, by experiencing the wonderful world of books through digital storytelling with celebrities, book mascot parade, literary exhibits, book donation drive, "writeshops" for children's literature and many more activities that would reinforce a child's rich and colorful imagination, instill proper values, and encourage children to explore and learn about other cultures. For more information on the latest schedule of activities, please visit your nearest SM Mall.
In SM City Iloilo, Iloilo City Councilor Lex Tupas was storyteller to children who attended the event. Dr. Erlinda Gencaya, City Schools Division head and Ms. Perla Haro of DSWD VI also graced the said activity. A costume contest and slogan writing contest added color to the event as five public elementary schools in the city was chosen by DepEd to join the book day. The elementary schools were M.L. Quezon , L. Mirasol , S. Abeto , E. Yusay, and N. Borres.
A reading nook sponsored by National Bookstore is located at the lower ground floor infront of Toby's for children to visit and read their favorite stories for free until July 25, 2010.