Art and Magic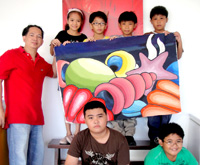 Students pose with Sir Mark and their group painting. This painting was bought during the auction by Mrs. Cabelara of San Dionisio Iloilo.
Brushwand and Amigo Plaza Mall's workshops
Just recently, Brushwand Art and Magic Workshops concluded with an activity at the Amigo Plaza Mall Activity Center. The Art and Magic Workshops were participated in by 31 students coming from different schools in the city and province of Iloilo.
Amigo Plaza Mall Administrator Gigi Sy graced the event and delivered the welcome message.
Streetmagic III or the art workshop participants showed their chosen magic tricks that left the audience and passers-by in awe and disbelief.
Members of the Philippine Brotherhood of Magicians (PBM) and former students Kevin Mari Francis Cruz (Streetmagic II) and JM Acuna (Streetmagic I) entertained the audience with their spectacular and mind-boggling tricks.
A 3-day exhibit of artworks was held prior to the culminating activity. A public auction of the artworks was held after the program and the proceeds were divided equally among the students.
Without a doubt, Brushwand Workshops and Amigo Plaza Mall gave their students a truly unforgettable experience.
Brushwand manager Mark Vincent Java along with Joannne Marie Ong of Jomar-Anne Health Marketing, Inc.–Yakult Panay Island handed the certificates to all graduates.
THE GRADUATES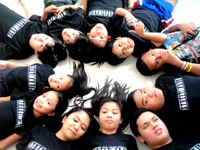 Iloilo's new breed of magicians in a group exercise.
The Brushwand gradutes are: Creative Arts and Crafts–Kimberly Ramirez, Kynah Kaye Fernandez, Ivan Joseph Gepilango, Shine Aeia Christel Abellar, Neale Heinrick Humpay, Emmanuelle Pastolero, Chester Caporal, Matthew Lance Hallares and Arianne May Grasparil. Drawing and Color Principles–Boom Corteza, Dion Wayne Esmaya, Kaiji Mediana, Adrianne Martha Barrientos, Kenneth Estandarte, RJ Cabrera, EJ Cabrera and Nadine Banusing;
Advanced Drawing and Painting- Ingrid Ann Mosura and Ernest James Villanueva;
The Streetmagic III graduates are: Miguel Ross Arandela, Adolfo Jameel Cabelara, Ann Melissa Co, Clairelyn Duatin, Kenneth Estandarte, Nicole Gubatanga, Justin Nigel Jover, Ivan Narandan, Gwyneth Faith Palmares, Zach Pijuan, Joseph Ryan Solen and Jetrho Nepomuceno (Advanced).
SPONSORS
The event's sponsors were The News Today, Jomar Anne Health Marketing Inc.-Yakult Panay Island, Al Dente, Mang Inasal, Absorbent Mind Montessori Preschool, AG Tire Supply, Nikkie Builders, AD-NF Architectural Firm, Carlo's Bakeshop, Cable Star, TMX, Picture City and Amigo Plaza Mall.