A celebration of loyalty at PFMC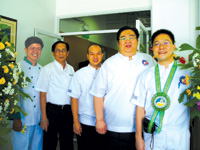 Victor Malones, PFMC; Boy Ng, US Wheat; Arvin Chua, Foodman Industry; Enrico Ah, PSB; and Christopher Ong, PSB.
The Philippine Foremost Milling Corporation (PFMC) blessed its new building in Lapuz as well as inaugurated its Iloilo Technical Training Center last June. The purpose of the center is to enhance the baking expertise of customers as well as ensure profitability as these customers become partners. The center was built in order for these customers' businesses to grow by providing them with seminars. The opening of the center is a celebration of loyalty.
A seminar on Ciabatta making was held prior to the blessing and inaugural ceremonies. This seminar is one of the many that PFMC will offer in the future.
PFMC had humble beginnings. It started with Uy Yan Gong (Julian Uygongco), an immigrant from the Fujian province in China, came to the Philippines and opened a bakery and grocery called La Filipina Uy Gongco. He imported and distributed general merchandise from the United States of America, the Republic of China, Thailand, Hawaii and Europe making La Filipina Uy Gongco one of the biggest trading houses in the Panay and Negros islands.
But the war destroyed what Uygongco had worked for. It was his eldest son who reopened the business after World War II in 1946 and renamed it as La Filipina Uy Gongco de Uy Chiong. It became a partnership and was named as La Filipina Uygongco.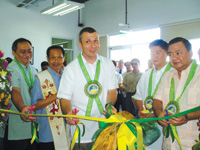 Ribbon cutting with DTI 6 Director Dominic Abad, Shane Townsend of US Wheat, Kenneth Uygongco and Rep. Jerry Trenas.
It was in 1987 that the Philippine Foremost Milling Corporation was built under the leadership of Engr. Alfonso Uy. The first milling plant operated in 1990 with a capacity of 400 metric tons per day. Today, it has a capacity of 920 metric tons and considered as the only flour milling facility in Western Visayas. In 1998, it has penetrated the Luzon market with the second milling plant built at the Manila Harbor Center.
Today, PFMC is one of the biggest flour mills in the country. It ranks second based on the volume of flour sold nationwide. PFMC is also the first flour milling company in the Philippines to be ISO22000:2005 accredited.
"We are one of the leading players in the wheat flour and animal feeds milling industry. We are best known for being a reliable supplier of best quality flour products sold under the famous brands Montana Spring, Dakota Champion, Washington Gold, Gold Key, Amigo, Family and Snow Silk. Our Excel and Amigo brands of compound feeds are also very well accepted," said Alfonso Uy, chairman of PFMC.