PURR
The Pinoy icons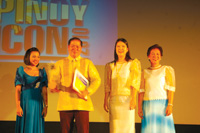 Melchora Aquino Award for Civic Work. Mayor Jed Patrick Mabilog after receiving his award from Charie Ilon and SM's Kristine Rojo Yap.
Every Independence Day or Heroes' Day, we always look to persons, who, in the past, have mobilized the country to a better state. Some have risked their lives and families in order to serve the greater good.
As we continue to look back and recognize these heroes, it is also equally important to consider that there are heroes in our midst, at the present time. True, we all have passions but there are some who went out of their way to excel and make their talents available for the betterment of others.
This year, SM City Iloilo in cooperation with JCI Regatta and ABS-CBN created Pinoy Icon in order to recognize these modern day heroes.
These modern heroes may not be written in our history books, but their legacy is written in the hearts of many.