I-TRAVEL
Prepping up for the 'Photowalk'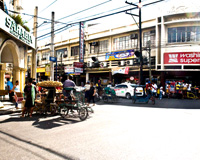 Sunday afternoon along Guanco Street.
The 3rd Photowalk of Scott Kelby will happen all over the world this July. There are several participating countries and Iloilo City will field delegates for the Philippine contingent.
The delegation's lead photographer is Jake Borres, a very capable photographer and a partner in Vago Nozze Studio. He has gathered 50 participants from various walks of life, including this writer.
For a familiarization with the route that was planned by the group leaders like Jake, we took a walk one Sunday afternoon and took pictures of the scenes around us.
Enjoy the scenes!