Toys For The Big Boys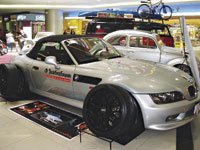 Gun Banusing Jr's BMW
Ground Effects, home of car and motor accessories staged an exhibit at SM City Iloilo recently. On display were motorcycles, cars and a van of varied Ilonggo men known to be car or motorcycle enthusiasts. Check out their "toys for the big boys."
Michael Acelar Chua
Seen in the photo is Michael's Kawasaki ZX1400. Michael has a wide arsenal of high-end motorcycles in his garage. He also has sport bikes, cruisers, dual sport and track bikes.
Dennis Sibuyan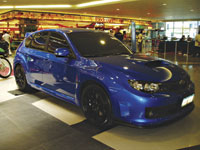 Dennis Sibuyan
Dennis is a speed and performance enthusiast. Dennis, as a young boy, wanted to have a toy that runs fast, handles well and maybe can fly. Shown in the photo is his 2010 Subaru Impreza WRX-STi, considered as "the flying blue car."
Jun Cabrera And Marc Colorado
Jun and Marc are motosports advocates as well as autocross and drag racers. Jun is Iloilo's fastest driver in the 2010 Autocross Champhionship while Marc has won several awards in autocross here and drag races in Cebu and Bacolod. They are partners in Tech One Racing, which specializes in tuning and modifying race cars.
Lyndon Cuadra
Lyndon is a Volkswagen fanatic, engine builder and restorer. In the photo is a Razorback VW car, the 1968 VW Karmann Ghia Type 34. Lyndon restored this car by himself, sourcing the parts as far as Europe and the United States. The said car was introduced by Volkswagen in 1961.
Gus Banusing, Jr.
Since elementary, beautifying cars with the latest gadgets and accessories, had been the hobby of Gus, owner of Ground Effects. During the exhibit, he showcased the Volkswagen Kombi Van and the BMW Z3 Roadster, known as the James Bond Car in the movie "Goldeneye."