Amigo Plaza Mall Billboard Design Contest kicks off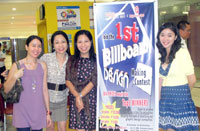 Lee Altavas, Mae Panes, Joy Canon and Gigi Sy.
THE month-long billboard design contest of the Amigo Plaza Mall and Amigo Terrace Hotel kicked off with its first screening last Saturday. There were 24 contestants composed of graphic designers, visual artists, web designers, layout artists, students, professionals and university instructors.
The contestants were given three hours to make their designs from the 20+ photos and logos provided by Amigo Plaza Mall. A total of 53 entries were submitted to the panel of judges composed of three people from the academe and advertising. From the 53 entries, top 15 finalists will be critiqued by the judges on July 18 where they will be given a chance to improve and make revision of their works for final presentation and judging on July 30, 3PM at the Amigo Plaza Mall event Center.
The top 15 will finalists will be announced by the judges on July18, 3PM.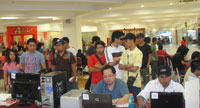 The contestants of the billboard design contest.
The members of the panel of judges were Amigo Plaza Mall administrator Gigi Sy, advertising practitioner Lee Altavas and marketing professor from the college of management in UP Visayas, Prof. Joseph Edward Idemne.
The winners from the contest will get P 20,000, P 10,000, P 5000 and P 2,500 for the 1st prize, 2nd prize, 3rd prize and two consolation prizes respectively. Two special awards, the Media Choice and the Highest Receipt Votes, will also receive P 2,500 each. All entries will be exhibited at the Amigo Plaza Mall event center on July 20 to 31, 2010.
The contest is organized by TMX, the only travel and marketing rolled into one agency in Iloilo. TMX services, apart from event management, include airline ticketing for domestic and international travels, group educational tours, on-board and airline cabin crew trainings.