OTOP Fair 2010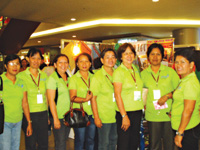 The Business Counselors League of Iloilo composed of OTOP coordinators from each municipality.
A must-visit venue of local products at SM City Iloilo
THE OTOP Fair 2010 has opened in SM City last July 12 and will last until July 18, 2010. Ilonggos will have the chance to see and buy quality products that were made locally. They are food, bags, purses, clothing, cloths, lightings, housewares, organic skin care and herbal products made from local or indigenous materials by varied small and medium entrepreneurs (SMEs) from Iloilo. By buying these products, you will provide employment and income to countless workers and entrepreneurs from whom the economy depends on in order to survive and flourish.
OTOP stands for One Town, One Product. It is a government priority program that was started in 2005 under the helm of the Department of Trade and Industry (DTI). It was inspired by the success of Japan and Thailand's One Village, One Product, wherein an area determines the resources or expertise that they excel in and then engage in trading for such.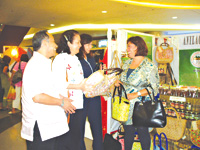 CHECK THIS OUT. DTI 6 Officer-in-Charge Wilhelm Malones, Delia Jarantilla, Valeria Maravilla, president of SMED; and Anilao Mayor Hon. Matet Debuque check out some of the products at the Otop Fair 2010.
Since the start of OTOP, there were P70 million in investments made and has established more than a thousand SMEs in the province of Iloilo.
DTI 6 Officer-in-Charge Wilhelm Malones said that the fair opened a culture of entrepreneurship and opportunities by maximizing each municipality's resources. It also enabled Ilonggos to put their God-given talents to good use.
This year, there are 35 exhibitors coming from the Province of Iloilo, with three guests coming from Antique and Guimaras. The project is a partnership of the DTI, Small and Medium Enterprises Development (SMED) Foundation, Inc., the Business Counselors League of Iloilo (BCLI) and SM City Iloilo.