PURR
Robinsons Design Lab 4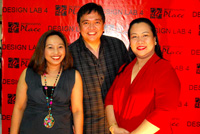 RLC's National Events Manager Shiela Vitug, VP for Human Resources Tante Felip, HR Manager - Learning and Development Tim Olaguer.
Part Two
Robinsons Design Lab, now on its 4th year, was successfully staged recently. Aisha Penalosa, a young designer known for her fresh concepts is this year's winner. First runner-up was Uer Joe Pabiona, second runner-up was Franco Malay and third runner-up was Cristine Jimenea.
The event was well-attended by supporters of the said contestants. Also present were the Robinsons Design Lab alumni, with last year's winners presenting their designs. Also present were Designers Guild of Iloilo's Jaki Penalosa (mom of Aisha), Bo Parcon and Don Protasio.
And of course, the judges–Tina Daniac, Ivarluski Aseron, Robinsons Land Corporation's bigwigs, Shiela Vitug and Tante Felipe.