Aisha Penalosa shines in Robinsons Design Lab 4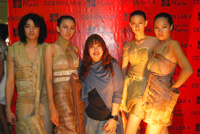 Aisha Penalosa, winner and her creations.
Aisha Penalosa said that the Robinsons Design Lab 4 was a nerve-wracking experience but she bagged the first prize, which she deserved.
Designers Tina Daniac and Ivarluski Aseron and RLC National Events Manager Shiela Vitug and VP for Human Resources Tante Felipe, the show's judges, had good things to say about her collection.
The other competing designers were Uer Joe Pabiona, first runner-up; Franco Malay, second runner-up and Cristine Jimenea, third runner-up.
The judging was based on the execution of the design, creativity and use of material, runway appeal and the concept.
The competition's theme was "Iloilo Next."
Aisha Penalosa
Winner
"The use of native fabrics is hard and you did it here. It's the best idea," was Tina Daniac's comment on Aisha's collection. "I like the details. They're complicated. And I like the fit," Ivarluski Aseron said. "I liked the abaca and twines that you used. Then, your clothes are multi-functional. It takes a lot of talent to achieve this," Shiela Vitug said. "The use of indigenous materials goes in line with Robinsons Land Corporation's efforts to 'go green'. Your collection shows that Ilonggos are resilient," Tante Felipe said.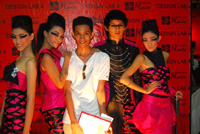 Uer Joe Pabiona, first runner-up and his creations.
Joe Uer Pabiona
First runner-up
"My family, especially my mom, inspires me. I want to prove to them that I can do it. I can't believe I've gone this far. I'm so proud of myself."
Shiela Vitug said that his collection meets the competition's theme "Iloilo Next." Tante Felipe said that Uer's collection was vibrant and that he paid attention to details. "It shows the rich culture of Iloilo," Tante said.
Franco Malay
Second runner-up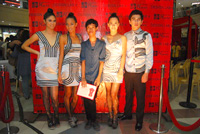 Franco Malay, 2nd runner-up and his creations.
Forty percent of Iloilo is in his collection. The rest was Japanese-inspired. "I used different patterns to represent the different problems that Iloilo faces," Franco said. The judges commented on his use of classy colors and the collection's wearability despite the need for improvement on the fit.
Cristine Jimenea
Third runner-up
She used katcha, hablon, denim and wires were used in her collection. One of the judges commented that it's an exciting concept, but questioned its wearability. The male model sported a hand painting of Hinilawod at the back of his shirt. "I wanted to create awareness about Ilonggo literature," Cristine said.