At the Music Pier in Ocean City, NJ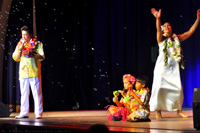 Don Ho's dancer, Betty Harshaw does the Hawaiian dance.
LAST June 26, 2010, Ocean City, New Jersey, staged probably one of the biggest musical variety shows ever. Music Pier, the historic theatre along the Board Walk fronting the majestic shore of this friendly resort was filled to the capacity with fans and enthusiasts from New York and the Tri-State area.
The Show was dubbed as a Musical Tribute to the Philippines to commemorate the establishment of a bond, linking Ocean City to its sister City, San Jose, Occidental Mindoro, Philippines. Dignitaries, including Consul General of New York, Ambassador Cecile Rebong, added grace to the occasion.
The show opened with host Rene Sese, Ambassador of Tourism of Ocean City, New Jersey, America's greatest Family Resort, belting out a popular vernacular song "Kapalaran". Wowing the audience, this romantic singing sensation, idol of so many, gave a rendition as a truly accomplished singer can. He danced and swayed to the rhythm of every song he dished out to the delight of the enthusiastic audience. His "Tiny Bubbles" got people singing along and tapping their feet while his lovely wife Mary Anne gracefully gave a surprise participation as she joined Betty Harshaw to a Hawaiian dance.
April Talangbayan, the young and beautiful graduate of the performing arts captivated the hearts of everyone with her flawless rendition of a mod song on her seemingly magic flute. She gracefully whirled around the stage as the audience gap at her every move. April is a poetry in motion.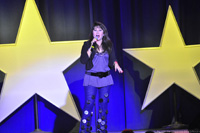 Imelda Papin.
Ted Prior, the electrifying performer, gave a rendition reminiscence of the King Elvis Presley and Margie Dailey close their act with a spell binding duet of an old familiar song.
One of the highlights of the show was the performance of Dick Velasco. His rich golden voice filled the Music Pier with an impeccablerendition of an old Spanish song "Sin Ti" and the classic "Just The Way You Look Tonight" which he dedicated to his wife Nelly sitting at the far end of the auditorium.
Imelda Papin, the super diva of the Philippine music industry and Asia's Queen of sentimental songs, graced the stage milieu with her incredible rare performance of old and more recent hit songs. She was a sight to behold. Every move she made was of majestic elegance. Every flip of her hand enhanced her flawless delivery. She is a consummate performer, a quintessence and a legend in her own time.
With the audience clamoring for more the show ended with each participant being ushered back to the center stage for a well deserved accolade.