PURR
The GMA7 Tour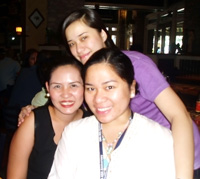 AT CHILIS. Cindy Brual, director of Sales of Quantum Hotels and GMA's Dalisay Diego and Barbs Atienza.
BEING one of the provincial press invited to the 60th anniversary of GMA7 afforded me the chance to see some of the network's celebrities in person. Day one, after arrival at the NAIA Airport, we were whisked by our hosts, represented by Barbs Atienza and JP Cadiz to the press launch of Trudis Liit, an afternoon soap that features the child star Julienne Ward.
The launch looked like a children's party. There were clowns that greeted us, with some of them handing us balloons that were shaped as hearts and dogs, among others. Lining on one side of the venue were food carts and you can just ask for whatever–ice cream, sandwich and drinks. Even our tokens were candies, pencils, ballpens and a knapsack for kids. Truly a children's party to celebrate Trudis Liit's re-entry in television.
Meeting the bosses
After the press conference was a courtesy call with GMA 7 Chairman of the Board Atty. Felipe Gozun and Chief Operating Officer Gilberto Duavit Jr. The duo told us how GMA started with just one man manning a camera while also serving as the show's host. Then, it just grew. It was 10 years ago when GMA started to fast-pace its innovation in terms of its shows and facilities. Gozun said that in the next five years, there will be digitization in the TV industry which will result to a proliferation of channels, thus the competition will be in the provision of content. "By then, we will have more than two international channels. If plans don't miscarry, our ratings will be equal or superior in Luzon, Visayas and Mindanao. We are speeding up many transmitters and you will see a difference within the year," Gozun said.
Gozun and Duavit had a sense of humor. But the huge boardroom and table intimidated me. We even had to talk over the microphone so we could hear each other. Mike Enriquez jokingly calls the boardroom "the aircraft carrier of GMA."
Filipino Cuisine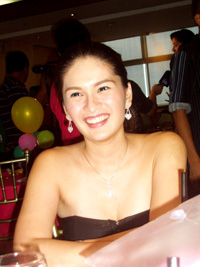 PAULEEN LUNA. "I have no ideal guy. I'm the type of person nga pag nag-swak ang puso natin, yon na. I'm more attracted to older guys, though. For me, conversation is important. I want somebody I can talk to most of the time," she said. She has a sexy body but revealed that she does not work out. "Being in Eat Bulaga is work out already."
Filipino cuisine was the order of the night at Romulo Cafe. It was a cozy restaurant of white and black, with photos of former President Carlos P. Romulo and the former US presidents and some heads of state during his stint as the country's leader.
Studio tour
On the second day, we had a studio tour of GMA. Neil, our guide showed us that broadcast is automated. We were brought to Studio 7's control room, which is considered as the most sophisticated in the country. Shows like "Party Pilipinas", "Family Feud", "Election" and "Hole in the Wall" are being handled here. Studio 7 is actually the largest television studio in the country, with an area of 1,000 square meters.
He showed us a new studio where shows like "Startalk", "Pinoy Arena", and "Show Me The Money" are being shot. Each show has a different set and lighting. So, one can see some staff working on props and other stuff inside the studio to prepare for the next taping.
Meeting Mike
Mike Enriquez has a great sense of humor. He talks passionately about radio, television and the broadcast business. "Talent is a key factor in radio and TV. GMA looks after its people, even its drivers and those who serve us food. Having money is not enough to succeed in this business. You need a good mix of people and the right culture. Our culture here is …there's no starpower," he said. At present, they are developing radio's ability to deliver service to Filipinos overseas. "But at the end of the day, amid all the technology, content is king."
Lunch courtesy of Quantum Hotels
We were treated by Quantum Hotels to a nice and filling lunch at Chilis. This 34-year-old restaurant became famous because of its mouthwatering burgers, ice cold beers and margaritas. They serve southwestern favorites like Baby Back Ribs, Sizzling Fajitas and Fire-Grilled Steaks.
Our host, Quantum Hotels, was represented by Cindy Brual and Tess Samaniego. There were talks about the varied properties that Quantum Hotels have around the country. One of them is Torre Venezia, where we were billeted.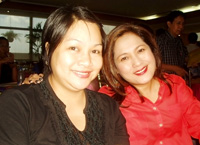 The writer with Gina Alajar.
The big night
After dinner at Cafe Bola located at the Coliseum Circle, we proceeded to the Araneta Coliseum. There we saw some celebrities doing their blockings and rehearsing. It was interesting to see them off camera. The show started at around 9 PM and ended at 2 AM. Being a fan of Marian Rivera, the part that I really enjoyed was her stage appearance dressed as Darna and the romantic dance number she shared with boyfriend Dingdong Dantes. It was the most applauded part of the program.
It was quite a tiring trip but it was worth it. Knowing about the workings in the television industry and how things happen behind the camera made it worthwhile.
By the way, the show's title was GMA at 60: The Heart of Television.