Oath Taking of Sapian Officials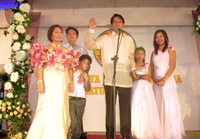 Mayor Arturo "Turic" Orosco, Sr., Ph.D, formally took his oath of office as witnessed by his wife Dr. Evangeline Oñas Orosco, son Arturo "Prince" Orosco, Jr., daughter in-law Bel, grandchildren Troy and Quenne.
Mayor Arturo "Turic" Orosco, Sr. of the tranquil town of Sapian in Capiz led the recent oath taking ceremony of the municipality's local officials administered by Judge Rubin Lambuson of Sigma Municipal Circuit Trial Court (MCTC) last June 30.
The diligent mayor, now on his second term in office, vowed to continue the developmental programs and projects in Sapian started by his mother-in-law, former Mayor Remedios "Nanay Meding" Oñas. He added that during his new term, he will continue to build infrastructures such as health centers, waiting sheds, basketball courts, barangay roads, and day care centers.
Under his leadership, other projects such as the beautification of the town, acquisition of heavy equipment, livelihood for his constituents, and school infrastructures will continue.
According to the good mayor, Sapian will continue to be the religious pilgrimage capital of Capiz wherein the Black Nazarene will again be brought to the town where hundreds of devotees can flock and pay homage.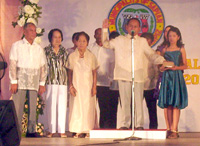 Vice Mayor Ralph Odrunia and family.
Accompanied by his wife, Dr. Evangeline Oñas Orosco, their son Arturo Jr., daughter-in-law Bel, and grandchildren, Orosco thanked his constituents for giving him another term to lead their town. He also thanked his family and friends for their support during the elections.
Vice Mayor Ralph Odrunia also urged his townmates to support Orosco's administration because their cooperation will greatly help in the fulfillment of the mayor's dreams for Sapian.
Other municipal officials who also took their oaths of office are: Councilors Samson Cordero, Imelda Orillos, Perseus Garcia, Elanie Vista, Redentor Obligar, Engr. Noel Oloroso, and Reynanto Padasas.