Life with Cid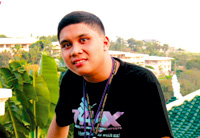 Cid Tampo at 20.
A child with autism has come a long, long way
(First of four parts)
HIS name is Cid Henry Ericson. We took the name of 'Cid' from the movie starring Charlton Heston about the story of Rodrigo Vivar, Spain's hero nicknamed 'El Cid', which is Arabic for 'The Lord'.
His classmates call him Cid. Some of those close to the family call him Cidboy, some call him El Cid. His older sister, whom he calls Nang Nds, calls him Boy. His older brother, the eldest of them three, whom he calls Nong Uts, calls him Peebs, or P-boy, both being contractions for 'palagpat (meaning, neither here nor there) boy'. His mom calls him Nonoy. His dad, that's me, I call him 'Ta, short for Tata, sometimes Dodo.
All sorts of endearments for a boy who has so endeared himself to so many, church members, his classmates, his teachers, our neighbors, and our immediate and extended families.
His is a face which could give some 'Star Struck' and 'Star Circle Quest' male finalists and now themselves are stars, a good run for their money.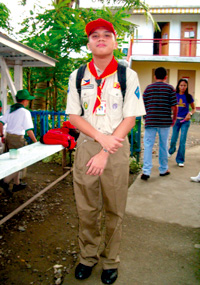 Cid, a former senior scout, is PAPSI's Outstanding Boy Scout.
He just turned 21. He was born June 10, 1989. He is now into his third year in Hotel and Restaurant Management in Central Philippine University. May I add, CPU no less.
You might say that this story is about a normal young man. No. Cid is autistic. And this cuts a deep, melancholy, and burning, break in our hearts.
Not to mention his.
Yet this young man fought. Our beloved son, also a beloved brother to his older sister and brother, fought. From the time he was diagnosed as suffering from 'pervasive developmental disorder' or what the experts say is 'autism continuum' when he was 4-1/2 years old, we saw our son fight. He struggled to break free.
And we would be remiss if we do not share his story, the pain, the joy, and all, with society. Or the world for that matter. We read quite a number of books and articles about autistic children written by their mothers and fathers.
I have wanted to write one for Cid, because if I do not do this, I would be doing an injustice not only to him, but also those who love him and whose faces light up with loving and hopeful smiles when Cid walks into a room, or saunters into an alley at school, or approaches a group.
If I do not write his story, I would be doing an injustice not only to him, but also to other boys and girls afflicted with autism like him.
If I do not write about Cid, the world will miss the lessons from the lows, and highs, of raising a child with autism.
Our son struggled with his affliction for 21 years. We observed him up close and saw how he fought to describe what's happening inside his world so that we can understand him better. How he tried to tell us that something inside him prohibits invasion of his thoughts. How he tried to connect.
He was, and is, and will always be inside his mental prison. And he wants to break free! If only he can.
This is his story.
THE DAY HEAVEN FELL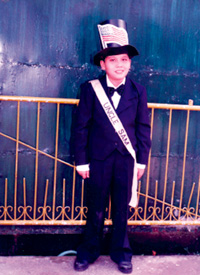 A younger Cid Tampo during United Nations Day celebration.
We had our doubts, and fears, when at 2 years he still can not utter a word. At 3, still none. At 4, monosyllabic words.
He did not crawl like the other toddlers. He just helped himself up, walked with the help of whatever he can hold on to, and when he was sure of himself, started to run. He ran from one end of the house to another. He ran all morning. He ran all afternoon. He didn't seem to get tired.
When he cried, he cried like crazy for hours. We were perplexed why he cried non-stop. But we were even more perplexed why he stopped!
He did not look at us straight in the eye. He did not watch TV too, at least not in the way we do. What he did was play with his puzzles or lego in front of the TV set without paying attention to the program, and hum.
You turn off the TV and he would cry out loud right away. You put the TV on again and he would stop crying right away and return to whatever it was he was doing. Just like that.
He was a cute little boy. With soft wavy hair crowning his handsome face, he looked like Cupid we see in artworks sans the bow.
Whenever his manong and manang arrived from school when both were in grade school, he would greet them thus;
"Brother Manong Toto! Pooooh!" Sister Manang Inday! Pooooh!". They had to answer him in like manner. They had to say Pooooh! This pleased him no end. Laughing now, he would run from one end of the house to the other. And back.
He has a very high pain threshold. You can say he almost cannot sense danger if it already stares him in the face. On one occasion when I arrived, he saw me going up the stairs. He jumped up and down and ran from one end of the house to another and back. To my horror, he tripped and flew face down. I ran to get him up, and as he let out a loud cry of pain, I saw his mouth covered with blood.
In panic I immediately drove to Mission Hospital but when we got there, I saw the emergency room was full of people so I turned around to look for another hospital.
The poor boy probably thought that we were just going out for a joy ride that he raised his hand and exclaimed, "alright!".
Happily!
I managed a sigh of relief. I still felt guilty and worried, but at least I was relieved.
But something was wrong.