In a scale of 1 to 10 points, with 10 being the highest, the Commission on Elections (Comelec) Region VI rated the conduct of elections at 8.5 points.
"I rated it at 8.5 in terms of success based on my expectations on the conduct of elections,"
Gubernatorial candidate Barotac Viejo Mayor Raul Tupas has already conceded defeat after latest election tallies showed his opponent Third District Rep. Arthur Defensor Sr. leading by a convincing margin.
There is a possibility that the Commission on Elections (Comelec) will not hold a special election on a precinct at Guimbal town which received a ballot intended for another precinct in Western Samar.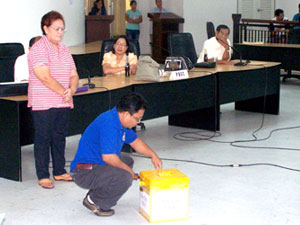 EC GARCIA
Partial unofficial tally (88.69% of ERs) Source: GMANews.TV
Congressman
TREÑAS, Jerry P. 97,711
GONZALEZ, Raul, Jr. T. 73,806
MALABOR, Mansueto A. 6,707
Mayor
MABILOG, Jed Patrick E. 77,627
GONZALEZ, Raul, Sr. M. 62,938
JAMORA, Lorenzo H. 37,520
more...
Governor *
DEFENSOR, Arthur Sr. 294,089
TUPAS, Raul 259,023
JAEN, Josil 4,762
* Partial Official as of 12 p.m. May 12, 2010
more...