Fun walk, mangrove planting and songs celebrate Earth Day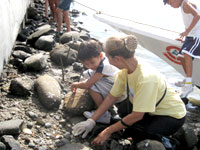 Lola teaches the importance of growing mangroves in Iloilo River.
Early morning walk from Molo Plaza to Iloilo River starts the Earth Day celebrations for around 150 mostly young people of the city.
The participants expressed concern that government agencies and officials tolerate the wanton violation of existing laws on clean air, biodiversity, coastal resource management and others.
It stated that impacts of global warming like more intense and more frequent flooding, landslides, droughts and other extreme weather events are now the gravest threat to the world's population. "Human activities like the emissions of greenhouse gases from transportation and power plants and the destruction of forests by mining and conversion to other uses contribute significantly to the heating of the Earth's atmosphere," it said.
Thus the participants committed to call on all levels of government to take swift actions on clean energy, climate change and disaster risk management; to effectively implement environmental laws on ecological solid waste management; to work for the democratization of ownership of public utilities on water and electricity; and if elected into office, that they should be willing to submit to public performance evaluation after six months to assess compliance to social contracts for pro-environment plans, programs, policies and legislative reforms.
Hundreds of mangrove propagules were planted along the Iloilo River that was spearheaded by the Workers for Health and Environment (We-Heal) and the Iloilo Student Alliance for Nature and Development (I-Stand).
The University of San Agustin (USA) Troubadours had a successful concert in the afternoon to cap the Earth Day celebrations. Part of the proceeds of the concert will be given to Green Forum – Western Visayas to be used for the protection and rehabilitation activities of Iloilo River.
The activities were coordinated by the Responsible Ilonggos for Sustainable Energy (RISE). mangroves in Iloilo River.