Westbridge FC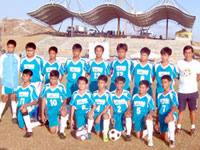 Team photo before the finals against NCR, who were beaten 3-0.
The little football club that could
"I-think-I can, I-think-I-can," puffed the little train as it labored with all its might, pulling up a mountain the load that other, bigger engines had refused. We all know the happy ending to the popular children's tale, "The Little Engine that Could," a story often used to teach the virtues of hard work and optimism in the face of seemingly insurmountable odds. A similar story with a modern twist might be called "The Little Football Team that Could."
On April 17, 2010, the Western Visayas Elementary Football squad led by Westbridge players RR Portigo – Team Captain, Carlo Dalisay, Lord Irvin Jimena, Migui Chavez, Paolo Divinagracia, John Palacios, Michael Inocencio and Andro Untal, together with Jekar Sullano, Jesse Dianala and Exiamirum Sierra, Jonas Oren, Paul Bernil, Charlone Lapating and Robert Supremo from various schools in the region, won the coveted Palarong Pambansa Championship in Tarlac, beating out NCR 3-0 in the finals.
The victory becomes even sweeter when one realizes that Westbridge is a school with only 147 students in its elementary department, has no athletic scholarships, and runs a very limited budget for its football team. The championship comes at the end of a long road of dedicated practice by the students, determined support by the parents, incessant value-formation by the school, and relentless training by Westbridge Coach Armand Heria.
Even more notable is the team's composition, which includes several honor students, some student government officers, and a multi-awarded singer in interschool events. Academic and extra-curricular demands did not stop them from attending arduous practice rain or shine, vacation or no vacation. As the students gave their all in practice, the championship caravan of supportive parents followed with food, energy drinks and even tents to out-of-town games, and raising funds for tournaments in Manila and Bacolod.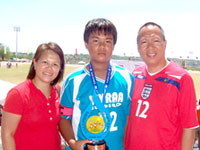 Team Captain Renz Richard Portigo with his proud parents, Dr. Ric and Tina.
The school, too, living up to its motto, "Duc in Altum" – Launch Out into the Deep", entered its fledgling footballers in tournaments with soccer powerhouses like Barotac-Tamasak and the Makati Football Club. Never mind the losses, the team was told, the important thing was to try hard and do your best, echoing the sporting determination encouraged by St. Josemaria Escriva, patron of Paref-Westbridge. At the same time they were reminded to give due importance to academics and other pursuits that would further develop their personalities. Recognizing the valuable attitudes of the boys, their parents, and the school, Coach Armand was confident in setting high standards of discipline and training, standards high enough to extract the team's potential and win them a championship.
And win they did. The team, composed first won the Mayor's Cup trophies. Next came the PRISAA wins: three in a row. Their wins against Barotac, something unthinkable a few years ago were followed by the Mizuno Cup top spot. Their quest led to the Palarong Pambansa Championship, and ultimately the gold.
Perhaps the Westbridge victory can be best described in the words of Italian soccer coach Giovanni Trapattoni: "Josemaria Escriva has taught many athletes that their efforts in training and in competition, their companionship with team-mates, their esteem for their opponents, their humility in victory and good spirit in defeat, are a specific path for reaching God and for serving others."
Well done.