Benigno Simeon Cojuanco Aquino III: A Gifted Heritage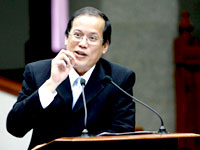 "Mike, elections is just around the corner. The future of our children and the next generation is in our hands. We have to take this responsibility seriously and vote for a leader who stands for clean and honest governance, "says my Ilongga friend, Nene Chan.
Indeed, fears have been swirling around us since the election campaign started getting hot this season of El Niño, power crisis, problematic poll automation, and controversial appointments. But have you ever paused for a while to think and imagine how things would be like in the country if Marcos and his minions continued to rule through all these years?
The horrifying experience of Filipinos in their quest for social justice and moral order during the tyrannical years of the dictator Ferdinand Edralin Marcos, I am sure, still haunt many who survived that lamentable period of our country's history. Have we truly accounted for the loss of lives among many of the country's bold, daring, bright, young activists who bravely fought the corrupt, repressive Marcos regime? Oh yes, Marcos and his evil Martial Law forces thought they'd last forever then; just as the present Red Queen of Malacañang Palace is hoping for her evil bidding to last her a lifetime.
But the lupus-ridden Supremo found a worthy challenger in the charismatic Benigno "Ninoy" Servillano Aquino, Jr. Ninoy was exceptional by nature in his sincere desire to enrich and promote a better Philippines for his countrymen. He had the exceptional trait of courage which surfaced precisely because Marcos' despotism was leading the country to disaster and demanded for it. Courage, for most of Marcos' dissenters, was a recurring necessity, if not a daily fact of life, during those dark years. And truly, Ninoy courageously confronted and accepted his moral obligation as a citizen of this oft ravaged country; while absolutely believing that Filipinos are worth dying for. Thus, he was provided the basis for the strength and determination needed to leave his personal mark on the world.
Ninoy was mercilessly assassinated; and the glorious People Power revolution came into being, miraculously uniting Filipinos for once. And the ailing dictator, since then reduced to wearing macho diapers, found himself counting tiny bubbles in Hawaii.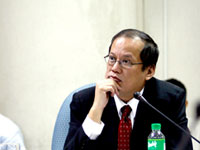 It was Ninoy's wife, Maria Corazon "Cory" Cojuanco Aquino, who bravely continued her husband's cause and, as history would have it, became the first ever Filipina "housewife" to become President.
It is, indeed, inspiring and thought-provoking experiences from courageous and self-sacrificing people like former Senator Benigno "Ninoy" Servillano Aquino, Jr. and former President Maria Corazon "Cory" Cojuanco Aquino which, I do hope, will fire us up in this coming election. In a culture unabashed in its emphasis on having money to buy an election, Ninoy and Cory reassured us, once-upon-a-time, that it is possible to live according to our values, and that Filipinos have the intelligence to elect good leaders. Who knows, we might even feel more intelligent for contributing meaningfully to changing the country.
On the other hand, for Ninoy and Cory Aquino's son, Benigno Simeon "Noynoy" Cojuanco Aquino, III, the decision and desire to lead the country began, understandably, with deeply-rooted motivations and influences which have proved far stronger than the buzz of concerns in his heart, head, ears, and Kris Aquino.
First, as the unico hijo, he has an overwhelming legacy to live up to; and was instilled with certain life-defining values by his parents: belief in human equality… fairness… responsibility towards the country. "The only valuable asset I can bequeath to you now is the name you carry. I have tried my best during my years of public service to keep that name untarnished and respected, unmarked by sorry compromises for expediency. I now pass it on to you, as good, I pray, as when my father, your grandfather passed it on to me," wrote Ninoy to his son in August 25, 1973, while incarcerated at Fort Bonifacio.
Obviously, Noynoy has been profoundly affected while growing up by experiences that brought him face-to-face with injustice. His parents practically sacrificed their family's welfare for their dream of a better Philippines to be realized. He did not try to shield himself from the pain of these experiences but instead, brought the pain deep inside him where it coalesced into a resolve to view politics as a necessary vehicle for change.
"A government based on core values of transparency, personal and institutional integrity, honesty, and good governance is a goal we must all share. To achieve this goal, we must unite based on shared principles…Kung walang corrupt, walang mahirap," Benigno Simeon "Noynoy" Cojuanco Aquino, III, the economist by education, lawmaker by vocation, and candidate for President of the Republic of the Philippines, would convince you wholeheartedly.
The choice is ours to make.