YOUNG VOICE
Stripping off the candidates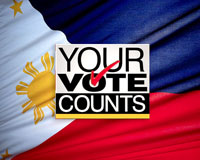 your vote counts.
I begin to wonder if intelligence is the only indicator of a good leader
Try to imagine a presidential candidate with the following qualifications: a graduate of UP College of Law as cum laude, a bar exam topnotcher with an almost perfect score of 98.01%, with political experience as a congressman and a senator and a powerful crowd-pleasing orator. Wow! Who wouldn't want someone who knows the constitution like ABCs as the Philippine President?
How about these credentials: a political heiress, a classmate of Bill Clinton at Georgetown University, a graduate of Economics in Assumption College as magna cum laude, a masteral and doctoral degree holder in Economics and declared by Forbes as the 44th most powerful woman in the world. Gulp. Who wouldn't want someone who eats and breathes economics as the Philippine President?
The bar topnotcher I'm referring to is not Gibo Teodoro, although he's also one. No, the economist is not Jamby Madrigal. Then there's Ferdinand Marcos and Gloria Macapagal-Arroyo. The first one was a bar topnotcher who left the Philippines with a bankrupt state and a debt of $28billion. The same well-trained economist was untiringly seen on the television airing sorry after sorry for another scandalous corruption her administration faced.
Filipinos are almost always blinded by achievements. Intelligence and distinctions are our usual parameters of the quality of a human being, of how we judge the worth of a person. The youth, most specially, are easily swayed into favoring Harvard Degree holders, laude awardees and spontaneous and articulate public speakers. We thirst so much for success and achievement that when we come upon meeting someone who has a sack of medals or a vault of trophies, we immediately go to their Facebook page and click on Become a Fan. We hunger so much for the "it" factor that when we encounter a PhD, or an MD, we right there and then, add them on Tweeter and like even their most boring tweets.
I do not deny that I, at times, join the same ideology. I stay up late studying and digesting my annoyingly boring lecture notes with the primary motive of getting good grades. I am blinded with the vague promise of a shiny gold medal at the end of a school year hanging proudly around my neck. I am deafened with the hazy what-ifs of praises and compliments from peers and elders. The spirit of learning is simply secondary.
But, I begin to wonder if intelligence is the only indicator of a good leader.
Under Article 7, Section 2 of the 1987 Philippine Constitution, in order to serve as President, one must be at least 40 years of age, a registered voter, able to read and write, a Filipino citizen by birth, and a resident of the Philippines for at least 10 years immediately preceding election. No requirements for a degree from some fancy international school, right? We had our share of brilliant-minded and high IQ leaders, presidents at that, but what happened to the country was worse than what a high school drop-out could have done.
My fellow youth, let us learn from history. What the Philippines need is not simply smart leaders. It would be a mere bonus if our leaders would be the top of the class, but this should be not the primary reason why they are fit for office. If intelligence and distinction are badly needed for leadership, then somebody should have revised the constitution. I do not mean that we should vote the less smart or the less educated candidates. I simply state the suggestion that we should not limit our options to those who are known to be intelligent better yet, more intelligent than the others.
I raised my eyebrows to those who would vote for a certain presidential candidate simply because he is smart and has a control over speech podiums. I thought this was a presidential race, not a quiz bee nor a declamation contest. For me, the reasons are too shallow. I'd rather place my hope on a simple graduate of a Philippine university who has the most heart and cleanest track record among the presidential bets rather than placing my country in the hands of a Harvard/Oxford/Cambridge graduate who is running under a corrupt administration and chooses action stars and game show hosts along in his ticket.
I urge loyalists to find more powerful reasons why should skeptics like me support their candidates other than their accomplishments. Every candidate now is proclaiming their personal credentials and for me we should take out these common claims. Let's slash out their credentials because all of them have something to brag about. Let's look into their individual choices, their beliefs, and their principles; aspects of candidates less assessed by voters. Let's analyze if these inner qualities that they have mirror those of the nation. The way I see it, we just need someone who will swear not to pocket most of the national budget. We just need someone who will simply say no to abusive governance. We just need a good leader, he or she doesn't need to be an economist, a university of whatever graduate or has to have an IQ of 150 and above.
I was awarded and recognized as top of my third year batch, I was given the gold medal for academics. Good for me right? But, behind my shiny gold medal is still a brat at home who clamors to her parents when she doesn't get what she wants. I'm still as pathetic. At the end of the day, my parents would appreciate more if I cut less on my prima donna attitude than my shiny gold medal.
Which do we remember more, Gloria's doctoral in economics or her scandal in the ZTE deal? Which do we remember more, Marcos' powerful speeches or his insensitive declaration of Martial Law? Slash out the honors. Take off their accomplishments.
Look into their intentions.
Leadership is simply about the heart.
Reactions to reylangarcia@yahoo.com