Cradle of Dreams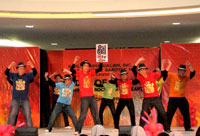 Iloilo Prima Galaw, Inc.
A showcase of Iloilo Prima Galaw and St. Paul School of Barotac Nuevo
Iloilo Prima Galaw Inc. and Saint Paul School of Barotac Nuevo presented a fabulous performance with "Cradle of Dreams", a launching program of Rock for the Earth, a workshop that promotes environmental awareness through theater and visual arts.
IPG is composed of 30 members who are mostly graduates of St. Paul University. According to Leolette Esther Hubag, the group wishes to fulfill dreams through workshops in creative writing, speech, visual arts, dance and theater, speech and drama, journalism, voice and musical theater.
She also invited Grade schoolers and professional actors to be part of the Lion King Production of IPG on September 2010.