RP's first business high school in Iloilo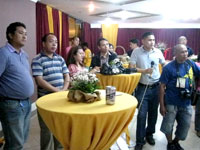 The country's first business high school will open its door in Iloilo City this June following the official launch of the George D. Sorio Special Business High School on March 8 at the Iloilo Business Hotel at the Smallville Complex.
Named after the businessman who owns the third biggest call center in the Philippines, the special business high school will be housed at the Cooper Building on Iznart Street, just across Amigo Terrace Hotel.
It will be operated by the St. Robert's International Academy (SRIA), an educational marketing firm that brought to the region innovative post-graduate programs of several leading colleges and universities in other parts of the country.
"The school's curriculum follows the prescribed Basic Education Curriculum of the Department of Education but we will have enrichment subjects designed to develop the entrepreneurial attitude and skills of students," explains Dr. Robert Galindez, SRIA president.
These subjects include bookkeeping, basic accounting, organization and management, entrepreneurial management, computer, entrepreneurship and corporate personality.
Dr. George Sorio, one of the leading investors for this high school, is the executive director of Cyber City Teleservices, the third biggest call center in the country based in in Clark Field, Pampanga.
Cyber City's US sales and marketing office is in New Jersey, while its telecommunications affiliate team is in California.
"We will provide a lot of exposure to students in the world of business, especially in the areas of corporate communication, information technology, accounting, management entrepreneurship and values education on top of the traditional high school curriculum," says Galindez.
The school hopes to accommodate some 100 students using the "open-admission but strict-retention policy."
Galindez added that students who graduated from their elementary schools as valedictorian or salutatorians will avail scholarships although they looked forward to find philanthropists who can shoulder grants to poor but deserving students.
The opening of the George D. Sorio Special Business High School in June will bring to 16 the number of private high schools in Iloilo City, which also has 14 public high schools scattered in its six districts.
"George D. Sorio Special Business High School will also affirm Iloilo City's title as the education center of Western Visayas," adds Galindez.
For more information about the George D. Sorio Special Business High School, please visit SRIA at Room 231 2/F Marymart Mall in Valeria Street, Iloilo City or call telefax number 033 5099811.