Kiddie fun at Brgy. Ma. Cristina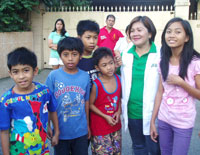 Brgy. Ma. Cristina's village head Cherrie Lebrillo and the village kids.
Every Sunday, Punong Barangay Cherrie Lebrillo of Brgy. Ma. Cristina in Jaro spearheads the outreach and advocacy program on health and nutrition and values formation of the children in the said village. The project is supported by the village officials as well as the Iloilo Baptist Church.
During Sundays, pastors of IBC teach children basic skills, good nutrition, faith and God and other values that would make them better individuals.
The project started in 2005 when Lebrillo, its founder, was still a village councilor. Every year, the stakeholders hold an anniversary celebration and this year, it was held in coordination with the United Iloilo Lions Club and SM Jollibee in Jaro. It was an afternoon that had fun-filled games and delicious food from Jollibee. It was a double celebration because it was held on the birthday of their dear Punong Barangay.
To my friend Cherrie and her supporters, congratulations for a job well done in guiding the children. While it is also important to nourish children with food, it is also important that they are nurtured emotionally and spiritually. Such a noble endeavor, indeed.