Cebu Pacific's media lunch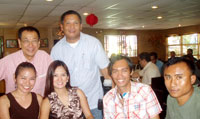 Charles Lim of Selrahco and Michelle de Guzman of Cebu Pacific with media practitioners.
Cebu Pacific and the Iloilo media got together for a superb buffet lunch at Suehiro Japanese Restaurant at Sarabia Manor Hotel and Convention Center recently. It was followed by an updating of what's latest at Cebu Pacific. According to Michelle de Guzman, corporate communications specialist of Cebu Pacific, the airline flies six times a day from Iloilo to Manila, three times a day from Iloilo to Cebu and once daily from Iloilo to Davao. She added that since June 2009, the airline has a market share of 50 percent in the country, with over 40 million passengers flown as of January 2010.
De Guzman also said that they will soon open the Pagadian route on April. As of now, Cebu Pacific flies to 33 domestic and 14 international destinations.
She also announced Cebu Pacific's Travel Fund (which functions like an e-wallet). "If you make your flight cancellation two days ahead, you can do so without going to the ticketing office and we will transfer the value of your booking to a travel fund. This value can be used in your travel to another destination," she said.
For bookings and information on fun tours, travel packages and others, visit www.cebupacificair.com.