I-TRAVEL
One Visayas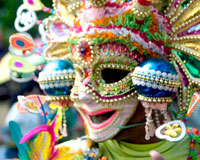 Nabas.
'One Visayas' was held the second time and the venue was in Roxas City, Panay Island. The event was a gathering of different islands falling under the Visayas.
Each Visayas island has its celebration and these were showcased during One Visayas.
I've noticed that the road traveled from Iloilo City to Roxas City had been fully paved. There were appropriate directions for the land traveler so that he or she won't get lost..
Roxas City is a fast developing city of the Island of Panay. It is wide and filled with people who are anxious to get on with their lives, mostly gearing towards attracting others to its environs.
Indeed, Roxas was a good venue for the festival of festivals, called One Visayas.