SM Supermarket's Super Chefs at Voyager 2010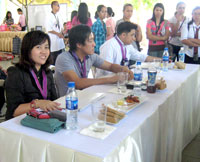 Central Philippine University College of Hospitality Management's culinary dream teams for Voyager 2010 transformed the usually quiet Alumni Promenade Concert Park into a busy cooking arena as the said teams vie for the SM Supermarket Super Chef Title in the SM Super Chefs Cooking Contest during the Voyager 2010.
Four (4) teams of student chefs battled against each other in creating a sumptuous six-course meal (appetizer, aperitif, salad, soup, main dish, and dessert) to be judged by industry experts. The challenge to the chefs was to create all six dishes at a given time around a secret ingredient. This culinary face-off was presented by SM Supermarket- the largest supermarket chain in the country.
The challenge in the kitchen started as early as 8am when the four competing teams of seven members intricately prepared their menus. Everyone was intently focusing on their jobs, all time-conscious and was eager to finish in two (2) hours time.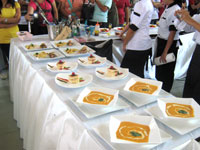 The group led by Mary Grace Verga was able to impress the judges with their Rippiene Pachieri with meatballs as main dish, Strawberry Mango Faviola for dessert, Seafood Souffle for their soup, Flour Tortilla Salad with Mango dressing for the salad and Cheese Calzones for the appetizer.
The winning team (all freshmen) has proven that they have the kitchen prowess to entice and impress the meticulous eyes as well as satisfy the discriminating tastes of judges.
The members of the panel of judges were SM Supermarket marketing manager Ms. Lyross Lumampao, Chef Ramlo Villaluna, & Days Hotel general manager Scott Sarria.
The culinary face off were attended by the CPU CHM students and faculty. CHM has a population of 1000 HRM and Tourism students.
Voyager is one of the grandest and most awaited events in the College of Hospitality Management. It is a series of week-long activities geared to showcase the students' skills in the different competitions like the culinary contest, table-scaping, and cake decorating, among others.