Unborn Child
In the minds of the Knights of Columbus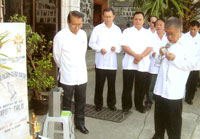 Holy Rosary Prayer in commemoration of the Unborn Child led by PGK Ramon Valasote with GK Dr. Greg Sancho and fellow brother Knights of Columbus.
In commemoration of the month for the unborn child, the Knights of Columbus, Molo Council 5028, led by Grand Knight Dr. Greg Sancho prayed the holy rosary in memory of all unborn children at the marker outside the Adoration Chapel of Molo Church.
The prayer is intended to minimize, if not totally eradicate abortion and as a strong manifestation of the council's pro-life advocacy. In addition, the council will hold a seminar on the legal, physical and spiritual aspects of abortion. It was through the initiative of Past Grand Knight Rogelio Garcia that the marker was erected in memory of the unborn child.
The Knights of Columbus Molo Council 5028 with the 174 members is the most outstanding council in the Visayas State Jurisdiction. For the past 10 consecutive years, it has been a consistent recipient of the most coveted Star Council Award. Past Grand Knights Danilo Martinez, Rolando Layson and Mike Chin, Jr are Double Star Council Awardees.