Evergreen Wheat 'N Oats Bakeshop
A haven of tasty and healthy breads
Wheat 'n Oats started at the kitchen in the home of Tricelle Claire Go-Navarro in 2007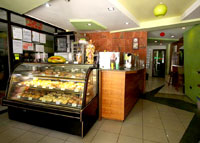 Inside Evergreen Wheat 'n Oats Bakeshop.
In eating bread, it's better to choose one that is made from wheat. Wheat contains vitamin B like thiamin, niacin, riboflavin and folic acid, which are good for the health. It's also wise to select oat-based products. Since oat is 55 percent soluble fiber and 45 percent insoluble fiber, it can reduce blood pressure and cholesterol and reduce your risk of having colon, breast and prostate cancer; promotes better management of diabetes and fewer incidence of constipation. Like wheat, they are also high in Vitamin B.
Wheat 'n Oats Bakeshop specializes in baking breads that are healthy, innovative and delicious. They sell basic and special breads. Their basic breads are Buttered and Wheat Pan de Sal, White and Wheat Loaves. Their specialty breads are Ube, Mongo, Ham and Cheese loaf. Ube Basket, Ham and Cheese, Pizza Bread, Meat Lovers, Tuna Roll, Coffee Bun, Chocochip (my favorite!),Cheese roll, Corned Beef, Sausage Bun, Bacon, Adobo Meatroll, Longganisa, Chinese Chorizo, Cheese Mexico, Flaky Pork (Mahu) and Macapuno.
They also sell Cocoa Tablet (Native Tableya), Oatmeal Chocochip Cookies, Double Choco Cookies, Chocolate Crinkles, and Brewed Coffee. As you enter the bakeshop, you'll smell the aroma of freshly brewed coffee.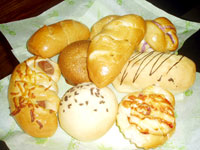 Healthy, innovative and delicious breads at Evergreen Wheat 'n Oats Bakeshop.
Wheat 'n Oats started at the kitchen in the home of Tricelle Claire Go-Navarro in 2007. "I love breads and baking is my hobby. I had no formal training on this but I took a crash course on bread making," said Tricelle, who is a licensed Architect. She started baking loaves and Pan de Sal and sold them to friends. A year later, she opened a bakeshop in their Evergreen office in De Leon Street, which is now known as Evergreen Wheat 'n Oats Bakeshop. It was her family who suggested she open a bakeshop because orders for Pan de Sal and loaves were in demand.
Later on, special breads were added to her list. She takes inspiration from frequenting bread stores during her travel locally and abroad.
Those who have tried their bread purposefully drop by their bakeshop in order to have their fill of healthy and delicious breads. Amid the increased demand for their products, Tricelle said that they continue to maintain their quality. "We do not mass produce." Our breads are freshly baked everyday and sold at affordable prices. Thus, the buyer is guaranteed of freshly baked and healthy bread always."
Evergreen Wheat 'n Oats Bakeshop is located at 34 J. De Leon Street, Iloilo City, with telephone numbers (033) 3013008 and 337-6369.