ILOILO XI thumps Negros in WVRAA Elem. Football Championship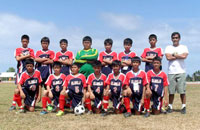 Paul Bernil, Renz Portigo, Jonas Oren, John Palacios, Carlo Dalisay, Michael Inocencio, Jekar Sullano, Coach Armand Heria. Kneeling: Charlone Lapating, Paolo Divinagracia, Michael Chavez, Andro Untal, Jesse Dianala, Lord Irvin Jimena, Exiamirum Sierra.
Carlo Dalisay of Iloilo scored a hat trick as the Iloilo strikers defeated the Negros booters, 3 – 1, in the Elementary Football Championship game held at Aklan Sports Complex in Calangcang, Makato, Aklan last March 17, 2010.
Dalisay weaved through a swarm of defenders at the 45th minute of the game and delivered a powerful long shot into the goal. His second goal followed 5 minutes after his first with another power kick that passed through the hands of the Negros goal keeper. His third goal which completed the hat trick came in the dying minutes of the game as Dalisay's powershot hit the right post of the goal and slid in to score the final goal.
Negros booter, Christian Continedo, however, drew first blood as he made his own long shot goal at the 7th minute of the game. Negros then concentrated their play on defense as they frustrated the Iloilo strikers from getting the equalizer in the first half of the game.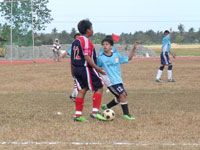 RR Portigo vs Negros booters.
The Iloilo won their elimination games in dominant fashion. They carved out a lopsided win over Capiz, 11 – 0, and followed it with another win against their eventual Championship contender, Negros, with a 6 – 1 thumping.
The Iloilo Elementary Football Team, composed mainly of Paref-Westbridge School football players, will now represent the Western Visayas Region in the Palarong Pambansa at Tarlac City on April 11-17, 2010.
The Iloilo Team members are the following: From PAREF-Westbridge School–Renz Richard Portigo – Team Captain, Carlo Dalisay, Lord Irvin Jimena, Michael Chavez, Michael Inocencio, Paolo Divinagracia, John Palacios, and Andro Untal; From Central Philippine University–Jekar Sullano, Jesse Dianala and Exiamirum Sierra; From Angelicum–Jonas Oren; From Barotac Nuevo Central Elementary School–Paul Bernil; and from Sta. Barbara Central Elementary School–Charlone Lapating and Robert Supremo. They are coached by Armando T. Heria of Paref-Westbridge School.