Twilight
Visiting Cool Baguio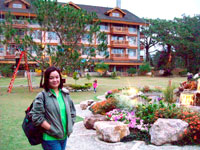 Your Twilighter upon arrival at The Manor Baguio.
It was a nice entry of summer as I had the chance to visit Baguiio City. Flying via Cebu Pacific from Bacolod to Cebu then another Cebu Pacific flight to Clark brought us to a four-hour land drive to Baguio City.
It was a warm welcome for us at The Manor of Camp John Hay by GM Mon Cabrera, Rosemary Ysmael-Palanca and the rest of the officials of The Manor. A visit to the Philippine Military Academy was a great chance for this writer.
Indeed it was a nice stay at The Manor, a very elegant hotel atop Baguio City. A lunch treat by Microtel Baguio and going around the shopping center of Baguio was a delight. Of course DOT officer Armi Legaspina was there for another treat for us for a Sunday lunch near Burnham Park at the Oh Mai Khan resto.
Though Baguio has nor airport service for now, flying there from Cebu to Clark on Cebu Pacific followed by a comfortable land trip to Baguio will bring you to the high end The Manor for that warm welcome of great food and comfortable stay.