PURR
UP Pep Squad … awesome!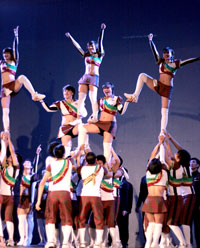 THE UP Pep Squad, the best cheerleading team in the country, was so awesome during their concert held at the UPV Auditorium one Sunday afternoon. They started the concert with their winning cheerleading moves. It was followed by dance numbers that showed how these students really worked hard – they studied jazz, yoga and ballet in order to come up with a full-length and energetic concert that was held outside of Manila for the first time.
The UP Pep Squad was formed in 1993 by five UP basketball fans known as the "Hecklers." Later on, they became the official cheerleading and cheerdance team of the University of the Philippines. The squad performs at the halftime of the basketball games of the UP Fighting Maroons in the University Athletic Association of the Philippines and represents the University in the UAAP Cheerdance Competition.