A proven solution to joblessness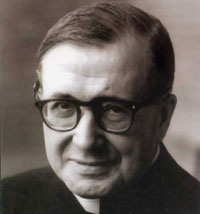 St. Josemaria Escriva.
IN need of a job? Feeling the pressure of your daily 8-to-5 grind? Can't get along with others at the workplace?
This may sound out of this world, but the best remedy is still (and is simply) prayer. Take it from Vanessa Graziella of Brazil:
I went to this web-site to send the Novena for Work to my cousin, and I noticed that it asks people to send information about the favors they have received through the intercession of St. Josemaría. So, here I am. Last July I decided to resign from my job because I discovered that the owners of the company were not honest. I needed the job, but I could not work in a place that was completely unethical. I could not obtain a normal job, because I am still a student and companies usually offer internships that pay very little. Through my boyfriend I met Opus Dei. Among his books I discovered the Novena for Work and I began to pray it. I had sent out my resume a week earlier to a number of websites that had open positions. A week after I finished the novena I was offered two very good positions. The company that offered the better starting salary—four times what I had been earning before—was only 15 minutes from my house. In addition, it is a well-known company with good ethical principles and I have met wonderful people there. Now I tell everyone about this novena.
Vanessa is just one of the many who have discovered that something spiritual could remedy a very material concern, and also importantly, that St. Josemaria is not only an effective intercessor, but also a real friend! Now, let's talk about February 14, which was something my friends and I will not forget too soon!
That Sunday was Valentine's Day to many. Some yuppie friends and I had a more-special-than-usual lunch in Jaro, Iloilo, then a badminton game afterward. But the highlight of our day was certainly an event in honor of this saint who close to us. It was about 1:30 in the afternoon at the Jaro Metropolitan Cathedral when the ceremony started for the unveiling and blessing of the portrait of St. Josemaria Escriva, the founder of Opus Dei.
The simple gathering was attended by around 250 people: families, teens, children, friends that are not-so-young, etc. Present also in the occasion were Archbishop Angel Lagdameo, who officiated over the ceremonies, and the Auxiliary Bishop Gerardo Alminaza.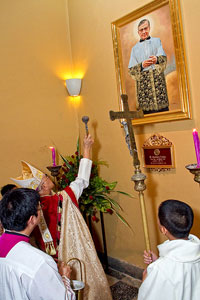 Blessing of St. Escriva's portrait.
The image, which is to the right of the main entrance door after entering the cathedral, shows St. Josemaria with his characteristic fatherly look and reassuring smile. To digress a bit, this image is the most recent to be blessed in an Ilonggo church, with at least one in the Sto. Niño Chapel (beside SM Delgado) and Villa Arevalo parish church. Aside from Vanessa, I know of a lot more people who have received favors through the intercession of this "saint of the ordinary." Here is another one from the United Kingdom:
I was out of work for six months. My children and I prayed the Novena for Work to St. Josemaría, and I continued to go to Mass daily and to pray the Holy Rosary to our Lady. I applied for a number of jobs without success. Despite my unemployment, I continued to trust that God would look after my family. And, through the help we received from my parents and my brothers, this happened. When God wanted it, he gave me not one job but two. With the grace of God I have been able to do both jobs and I offer all my work for the love of God and neighbor. Many thanks for the help and powerful intercession of St. Josemaría.
So, still in need of a job, or feeling work related pressure? Try praying (since it's the proven solution) before the image of St. Josemaria, or try using The Novena for Work that can be accessed over the Internet at <www.josemariaescriva.info/opus_dei/NovenaforWork.pdf>.
Definitely a million thanks need to go out to the people behind this portrait project. Through the care and effort they poured into this undertaking, more Ilonggos could now get to know St Josemaria Escriva better. They too, like our two friends above, will realize also that the best remedy is (and always will be) prayer.